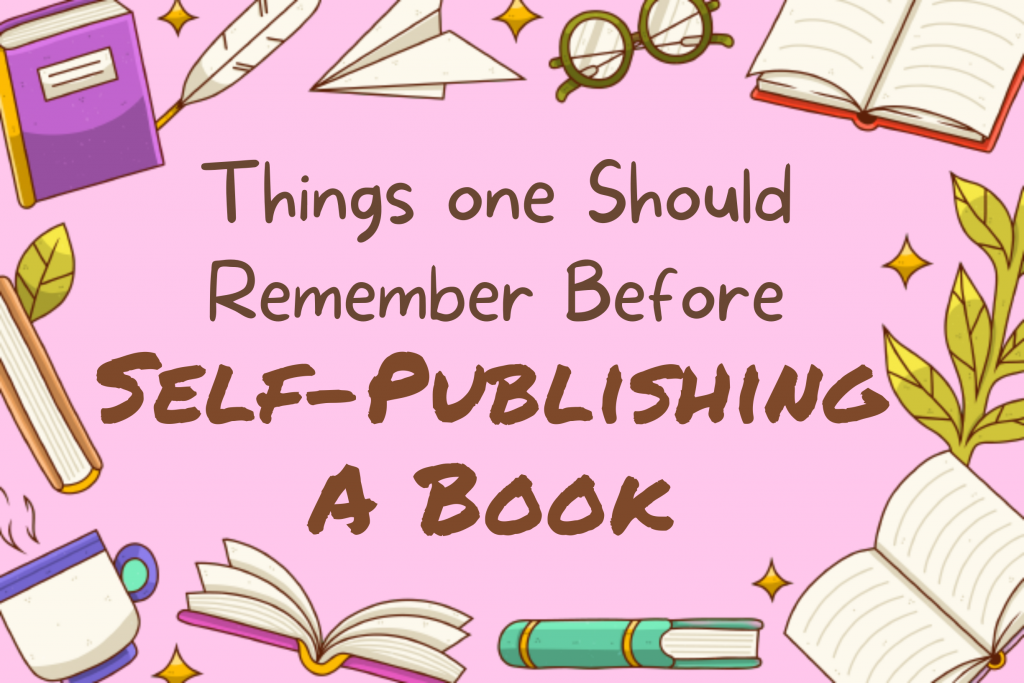 Every individual with a dream to share or something essential to say writes a book. Writing a book is a significant accomplishment in itself but is entirely different from self-publishing a story. 
Writing a story involves certain elements that authors need to keep in mind before creating a storyline. Check out "7 Elements One Should Consider in Storytelling" to learn more about the essential parts of storytelling.
Self-publishing a book is a big moment in an author's career. Before self-publishing a book, authors should always examine several stages and essential pointers.
Mentioned below are some noteworthy steps and pointers- 
Perfect the Manuscript 
The most primary and common step to consider before self-publishing a book is to perfect the manuscript. Every writer has a draft or manuscript that they want the world to read, but before releasing it to the world, it is essential to make it flawless.  
It is recommended to self-edit, proofread and then get it edited by a certified editor before making it live for the readers. No matter whether the book is self-published or not, it will be read and assessed the same way by the readers, and the reader's decision and response determine the book's success. It's a setback to have a book with grammatical and factual mistakes.
Target Audience
After perfecting the manuscript, it is important to determine your target audience. The genre of the book somehow determines the audience the author wants to focus on when self-publishing a book. When writing a book, taking into account the nuances of the audience will aid the author in marketing and ultimately make the book more profitable.
Cover Design 
Though writing an excellent book is essential, having a unique and eye-catching cover is also necessary when self-publishing a book. They say the first impression is the last impression, and the book cover is the first image the author is putting in the minds of the readers. 
Regardless of whether the book's cover is image-based, illustration-based, or typography-based, it must be appealing to the audience and portray the essence the author is attempting to convey. Readers often notice some aspects of a cover when buying a specific genre; therefore, the author must consider including those elements in the design. 
Book Description
Coming up with a book description can be a hassle and is disliked by most authors. However, having an outstanding book description is critical when self-publishing a book. The most crucial component determining people's decision to buy a book is its description. It should not be a plot description but rather something that excites the audience tickles their interest and convinces them to buy the book. Start with a dramatic phrase and detail the narrative briefly in the middle; then, at the conclusion, leave the reader wanting more.
Distribution method
When self-publishing a book, selecting the best distribution channel is critical. Authors can choose from a number of distribution strategies based on the services and fees they offer. It is essential to select a distribution option that meets the author's goals as well as his or her budget. Print on demand is one of the most cost-effective distribution strategies. This function allows the book to be produced just when it is requested, eliminating the need to spend extra.
Marketing and Promotion 
Writing and self-publishing a book is a different story, but marketing and promotion of a book is a game-changer. Letting a reader find a book organically in a store is a plus point, but marketing and advertising not only escalate the process but also help in reaching the right audience. 
As necessary as it is to create an excellent book, it is equally important to market the same effectively. A book's success is ultimately determined by how well it is promoted. When it comes to marketing and promoting a book, writers can use a variety of approaches, including online book promotion, social media advertising, book publicity, and so on.
That's it! Things one should remember before self-publishing a book. Don't forget to check out our previous post on "5 Self-Publishing Mistakes to Avoid in 2022" if you are looking to get your book self-published. Also, please share your thoughts on this post by leaving a reply in the comments section. You can also reach out to us by visiting our website https://bfcpublications.com/.