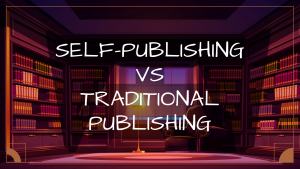 So, you've finally completed your book and are now wondering whether to submit it with a publishing agent or get the book printed by a self-publisher. Make sure you read this post before you take a call on which route to take.
Quality- An outdated notion about traditional vs. self-publishing
Traditional publishing means the publisher will invest his resources to get your book out there. The general perception is that books picked up by traditional publishing houses have quality. This, however, is an outdated notion about traditional vs. self-publishing. The rise of authors like Amish Tripathi and Ashwin Sanghi has more than settled this debate. Long story short, self-published books can be as good as those published through traditional means and traditionally published works can be equally substandard.
Getting the book printed traditionally means handing over creative control
Traditional publishers call the shots when it comes to the creative aspects of books. Why? Because they are the ones investing money and resources in getting the book printed. In self-publishing, however, the authors are in charge. Everything is under their control, from how the book looks and feels to its word count, the cover, etc.
Self-publishing offers better royalties
When it comes to determining the book's selling price, self-publishing allows authors all the freedom needed. Furthermore, because the author has already paid the publisher for the services rendered and no considerable cash has been set aside to send the books to print, writers are entitled to much greater royalties, thanks to print-on-demand. Traditional publishers, on the other hand, pay advance royalties. This helps authors avoid printing costs and instead earns them some healthy change. Yes, you read it right; that's what it is, "healthy change!" Why? Because the royalties offered under self-publishing are significantly higher, way higher than the 7-10 per cent traditional publishers give authors. Estimate the ideal selling price of your book by filling out our Royalty Calculator.
Self-publishing safeguards intellectual rights
Traditional publishers stand to benefit the most, if a book they published is picked up as a movie or television show script. Why?  One, because they invested considerable resources and money in getting it published, and two, because you relinquished most of your intellectual rights when you entered the contract they offered. On the other hand, self-publishers have little to gain in such a scenario because they have already been compensated for their services.
Conventional publishing is tedious and time-consuming
Multiple submissions and multiple rejections, that's what someone aspiring to get conventionally published goes through. The newer the author, the more rejections he is likely to face when pursuing a book deal. Even if a contract is signed, the book is unlikely to hit the bookstores for another year or two, so tedious is the traditional publishing process. Under self-publishing, however, the books are printed and ready for sale within weeks.
That's it! Traditional Publishing vs. Self-Publishing – The Good & The Bad. Don't forget to check out our previous post on "5 Self-Publishing Mistakes to Avoid in 2022" if you are looking to get your book published. Also, please share your thoughts on this post by leaving a reply in the comments section. You can also reach out to us by visiting our website https://bfcpublications.com/